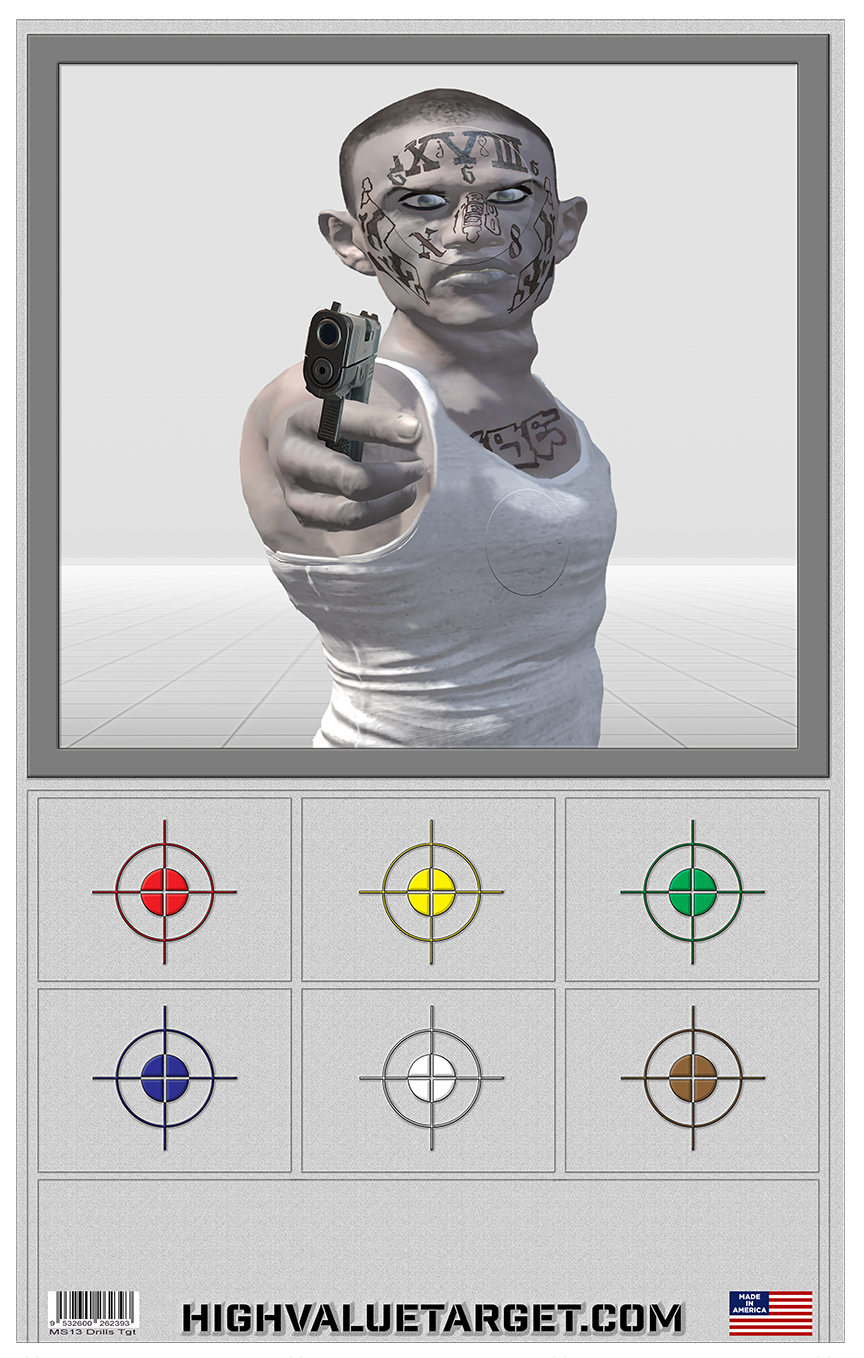 MS13 Drills Target
---
Targets are sold in quantities of 10, each "add to cart" = 10 targets.


Description:
  This target encourages cognitive based shooting drills.
  Recommendations for training with this target. Training to shoot colors sequences is a good introduction cognitive based shooting drills, which can get rather complex. *See the COA target. A friend, training partner or firearms instructor may  call out a single color indicating to the shooter to engage that particular aiming point. Or, A sequence of colors may called out, such as, Red, White & Blue. It's up to the training partner calling the shots (pun intended) to decide how many rounds are fired into each aiming point. Typically, 1 or 2 is good number. 
The command, Threat may be used to indicate the target character (MS13). There are two places to aim, the cerebellum and the heart. "Aim small miss small".

Features:
Aiming points centralized for indoor range use.
For precision rifle, military and law enforcement snipers, the head is 5.5 inches across. Normal human head width is 6-8 inches.
Six 3.5 inch color coded  aiming points with lots of edges, ideal for magnified optics.

A faintly depicted Threat Elimination Zone™ (TEZ) over the head is 3.5 inches wide, by 3.3 inches high. 
Heart, Threat Elimination Zone™ (TEZ) is 2.2 inches wide, by 2.6 inches high.
This specialty paper, C1s card-stock will take 3X as many rounds as standard target paper and resist weather, better.  All targets are printed on this paper.

The target is 21 X 33 inches long, designed to fit outdoor shooting stands.
Background shading enhances contrast & depth adding to realism while reducing reflective light.

Well suited for night vision training #nightvisiontarget.

Strategically Designed Targets