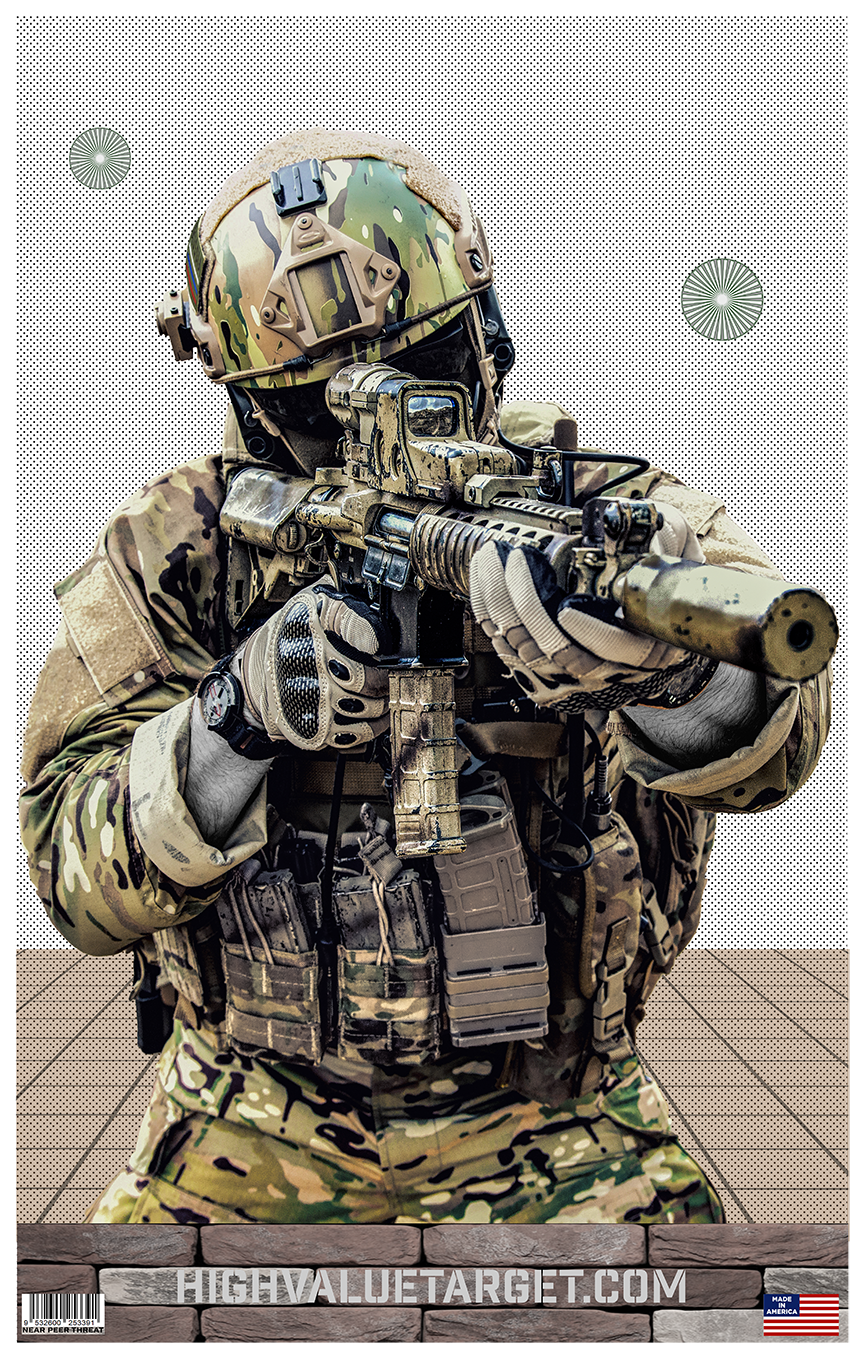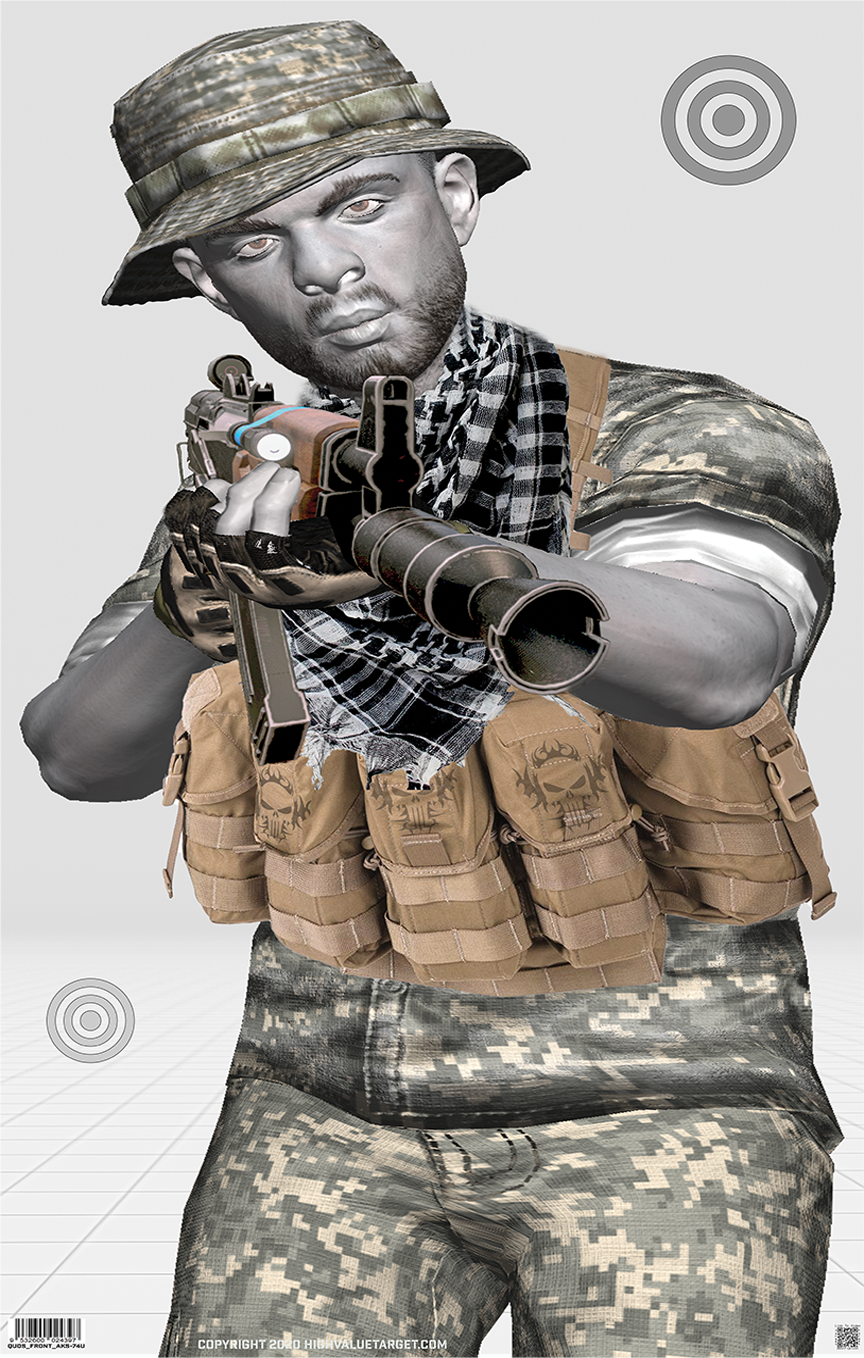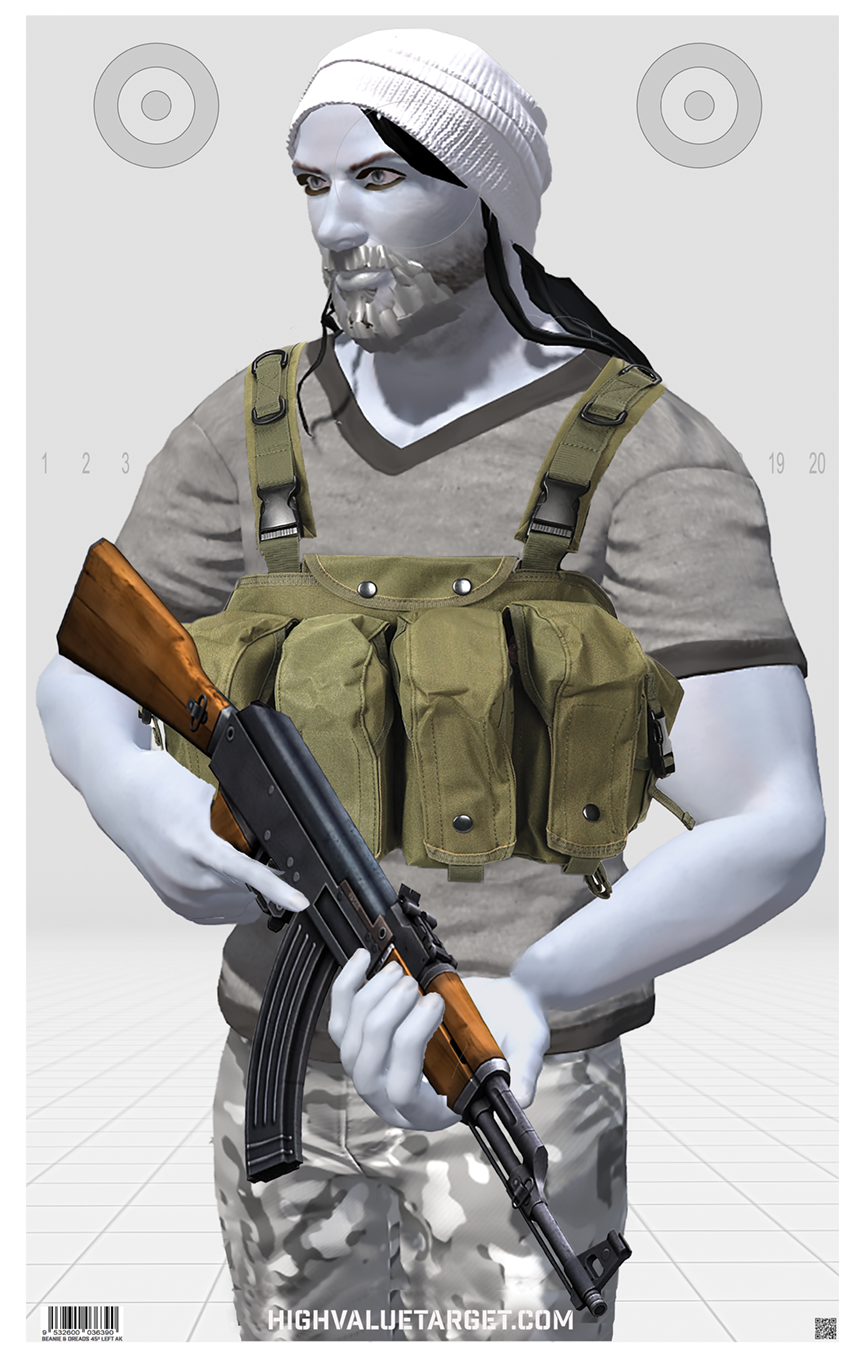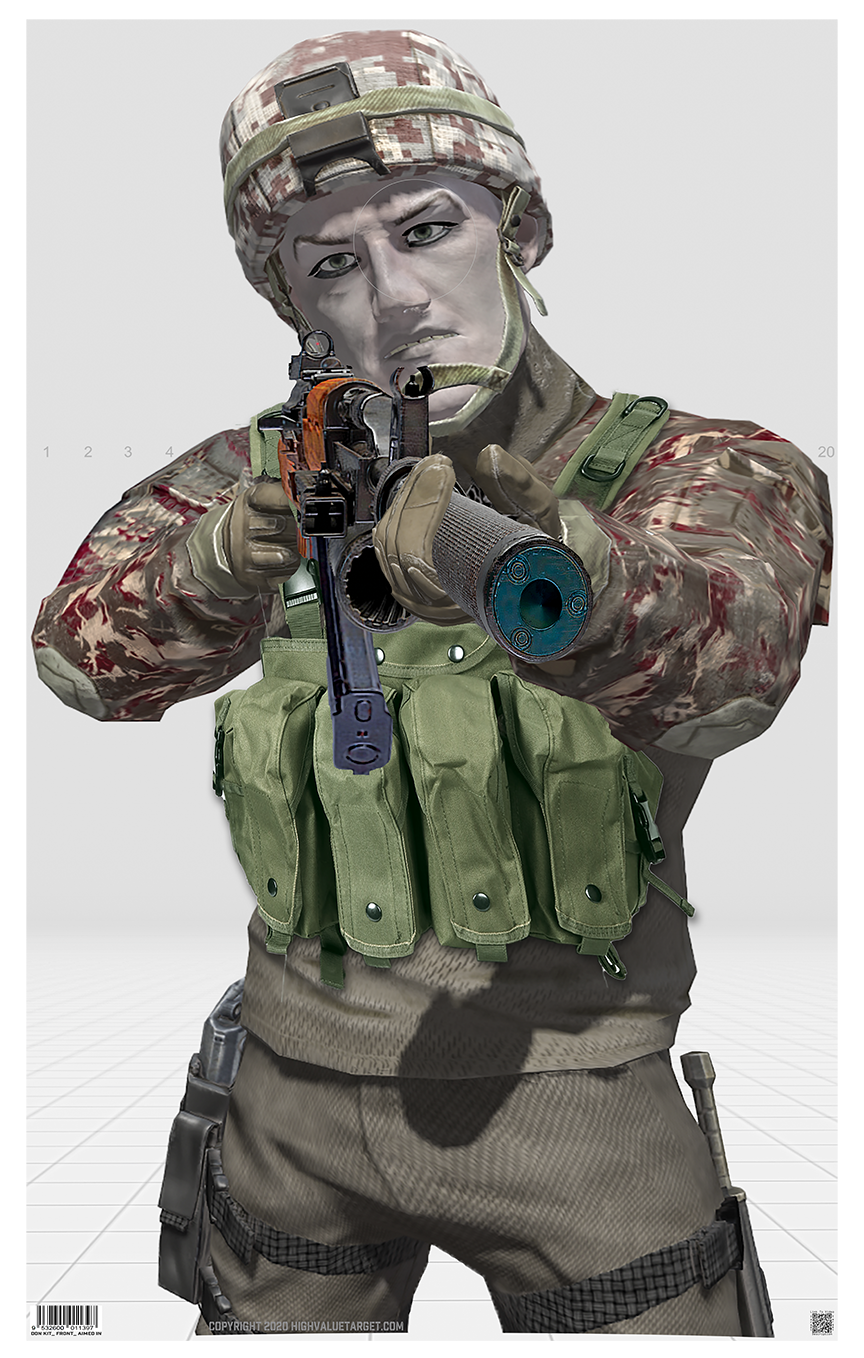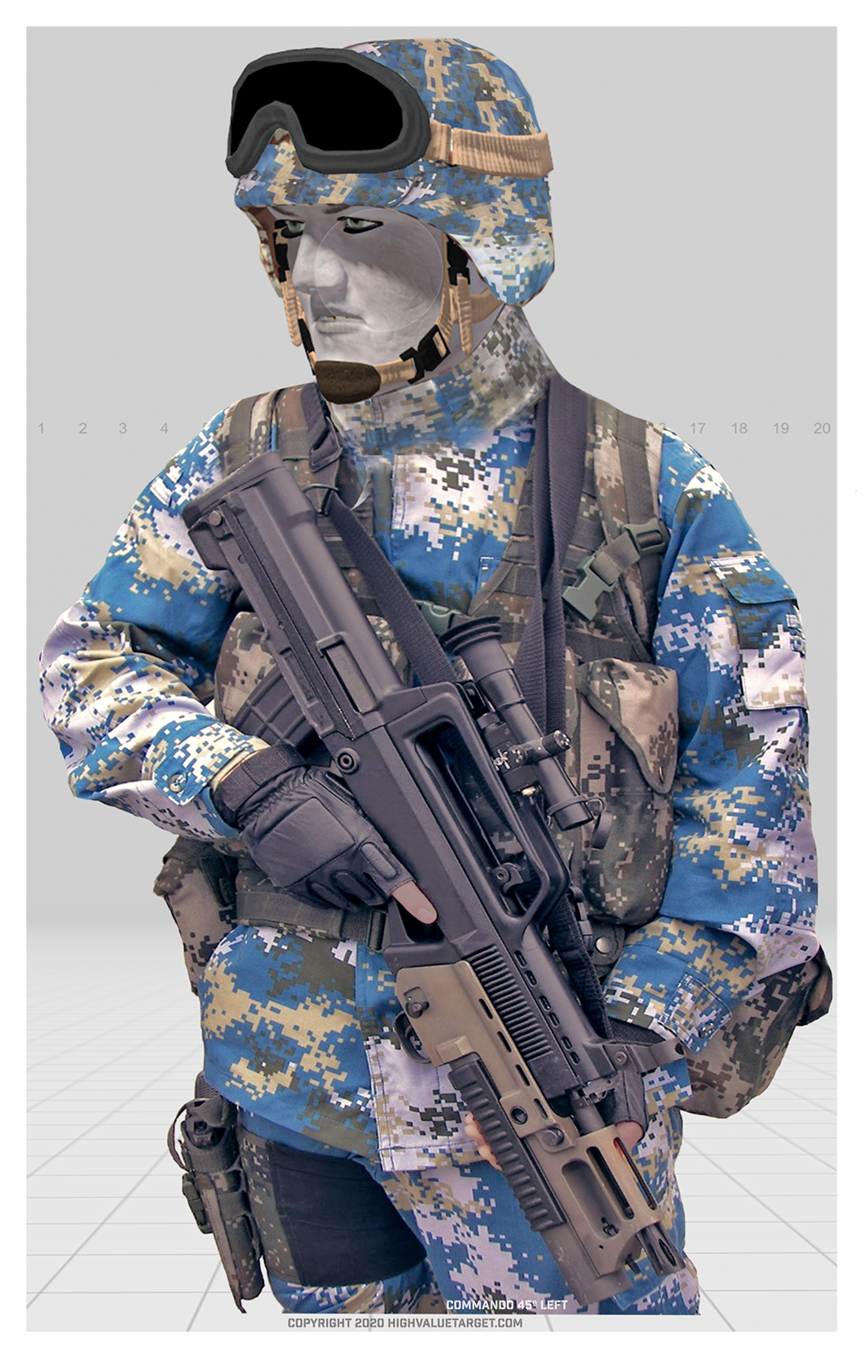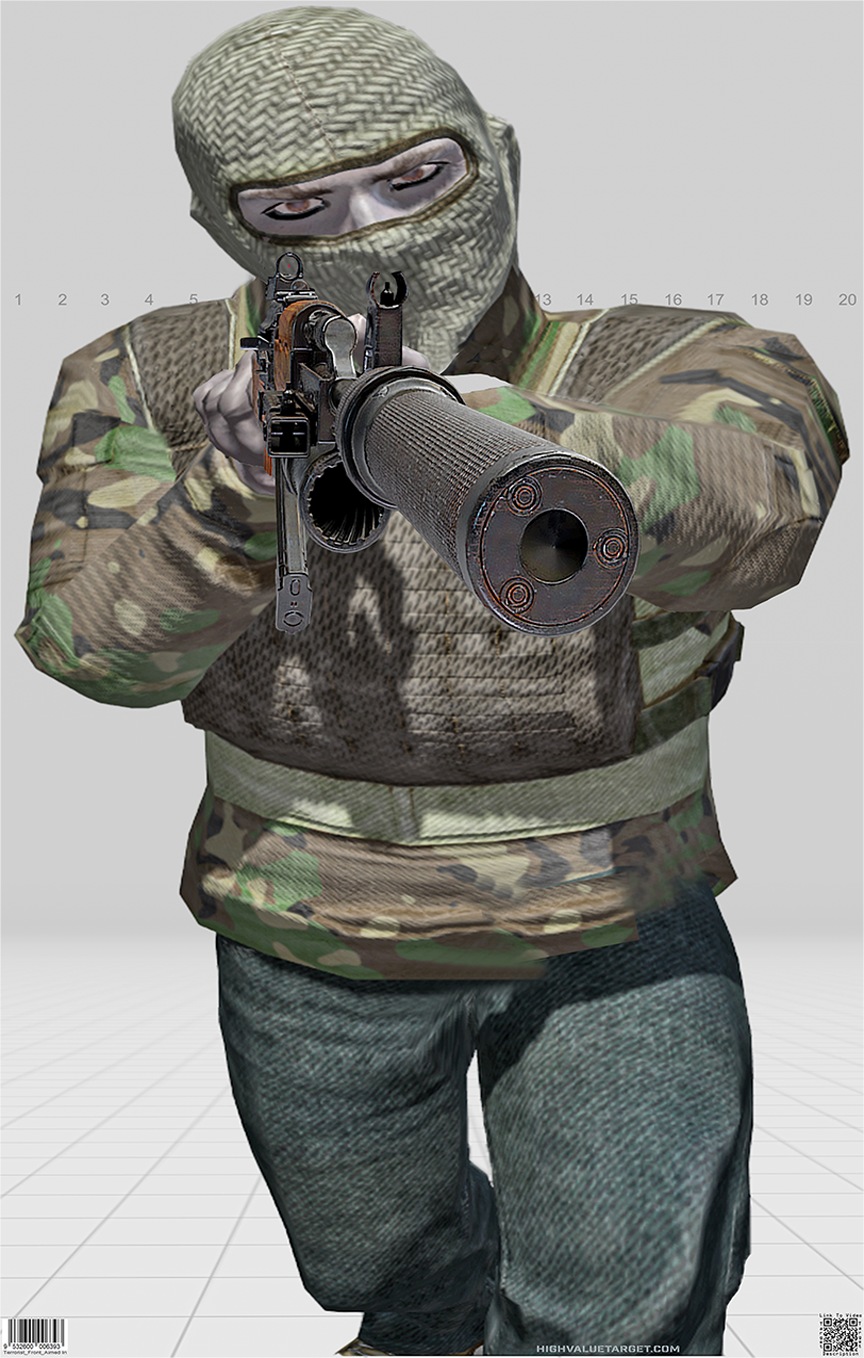 (105) Rifle Training Targets
---
105 total - 7 targets, 15 of each

1.  Full Kit_Aimed In  

2.  QUDS Force 

3.  Beanie & Dreads 45º Left

4.  ANTIFA 

5.   Don Kit

6.  CCP Commando 45º Left

7.  Terrorist Front
All targets Feature:
Background shading reduces glare outdoors, enhances contrast & depth, and is compatible with night vision devices.
Super thick paper resists weather and show's shot groups better; Also, ideally suited for Airsoft, UTM, and Simunition training.
Size - 21 X 33 inches long, suitable for the Shoot House and most outdoor target stands.
1.  Full Kit_Aimed In:
Description:
 The targets you train with should represent the threat you training to defeat. This is our most difficult target outfitted in full kit with helmet, ballistic plate carrier and suppressed rifle w/ optic. The most advantageous location to engage this target is on the head and to the right or left side of the rifle. The two additional aiming points on the target represent the size of the most ideal location to place rounds. Repetitious shooting drills on the range will teach shooters how to engage this type of threat, skills which will directly translate to the Shoot House and real world situations.
 2. QUDS Force Description:
   The QUDS Force character is derived from a photograph of an Iranian Special Operations, QUDS force soldier, posing for a picture with Qasem Soleimani, the QUDS force commander who was eliminated by a US drone strike in Iraq, in 2020.  This target is ideal for Shoot House training, exposing shooters to this target on the flat range and during repetitive drills will teach the shooter see optimal shot placement locations, verses habitually firing center mass. We are truly products of our training.

 *Enemy fighters have been known to recover US gear and equipment from American KIA. In the photo, the QUDS Force soldier is seen wearing American camouflage and a Rhodesian vest with the punisher skull.
3. Beanie & Dreads 45º Left Description:
The ROE's for military snipers and law enforcement under some situations allow for taking a shot when the threat is clearly armed and intends to harm others. Possibly, the threat has already harmed others. This target depicts a new and emerging threat that has been seen in Iraq, Afghanistan and in the streets of downtown Dallas, TX, Mandalay Bay, Las Vegas and other Active Shooter events. Those training on this target will take note of the Rhodesian vest containing double-stacked AK mags; 5.56 is not likely to penetrate double-stacked AK magazines. A pelvic-girdle shot is sketchy due to the position of the rifle, so the best shot location for this target is at the high thoracic cavity region or a direct head-shot. This target is ideal for precision rifle, flat-range and the Shoot House. Training like this is seeing where to shoot, which is neurologically different than habitually training oneself to shoot center mass.
4. ANTIFA target description:

  Domestic terrorists such as ANTIFA were responsible for more than a billion dollars in damage to multiple cities in 2020, causing many businesses to be permanently boarded up and shut down. Unfortunately, these communist ideologues are still carrying out environmental and economic terrorism in the United States, virtually unimpeded. The ANTIFA target character is depicted wearing body armor and a helmet while holding a sawed-off shotgun.
5.  Don Kit target Description:
 Targets such as these were requested by DEV Group troop chief, Trey L. Have you trained on target that depicts a helmet? Most haven't, which is why this target is important. Everyday more plate carriers, helmets and body armor are sold. Those serious about training for the fight like to get geared up, just like you. Any shot fired center mass on this target should be counted as ineffective and a miss. Therefore, shooters must train themselves to have the confidence to make a head-shot, this is best done through repetitive training on the range. Then, place this target in the Shoot House and assess shot placement under more stressful circumstances. Ultra thick paper also works well with simmunition and airsoft non-lethal weapons. Force-on-force training may be enhanced by adding targets such as this to the scenario.

 This is a Near Peer threat target depicted wearing a Rhodesian vest, helmet and wielding an AK-47 w/ suppressor and optic.
6. CCP Commando target Description:
This target character represents a new and emerging threat and the equivalent of the US Navy SEALs in the Peoples Republic of China (PRC). This target is ideal for those training with ROE's that state the combatant is armed and intends to harm others.  This Near Peer threat target is based off of a photo of a Chinese Naval Commando.
7. 
Features:
Two additional aiming points intended not to distract shooters when used in the Shoot House. One two inch aiming point and one 1.5 inch aiming point.

3D shading enhances contrast & depth, reduces glare and is compatible with night vision devices.
Super thick paper resists weather and show's shot groups better. Will not tear like "newspaper targets" ideally suited for danger close training, Airsoft, UTM, and Simunition training.
Size - 21 X 33 inches long, ideal for the Shoot House and most outdoor target stands.