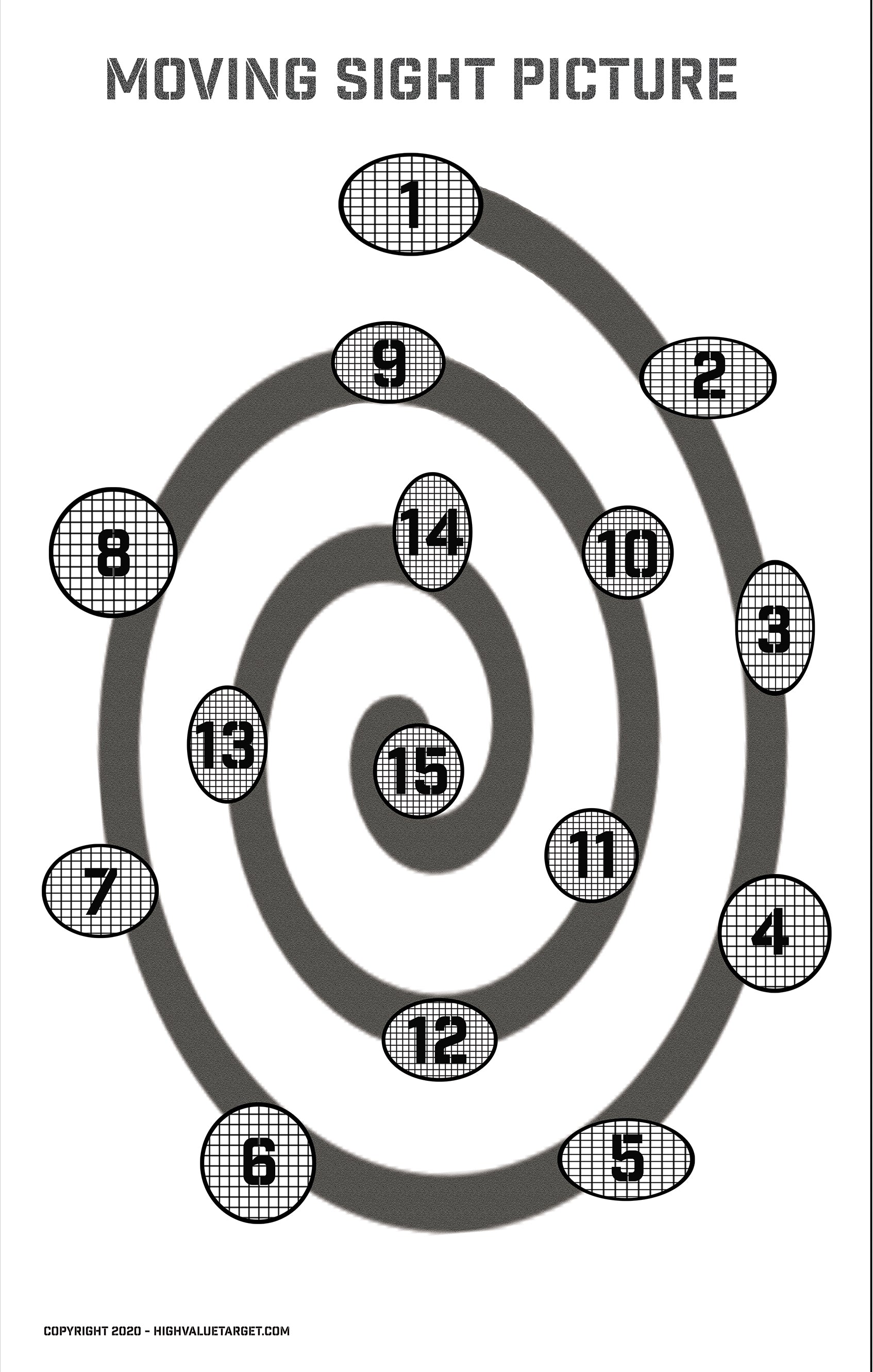 (20) Shooting Drills
---
Four targets, 5 of each - 20 total.


1.   Pistol Warm UP  

2.  Moving Sight Picture 

3.  FOUR 3D 

4.   FOUR
All targets Feature:
Background shading reduces glare outdoors, enhances contrast & depth, and is compatible with night vision devices.
Super thick paper resists weather and show's shot groups better; Also, ideally suited for Airsoft, UTM, and Simunition training.
Size - 21 X 33 inches long, suitable for the Shoot House and most outdoor target stands.
1. Pistol Warmup Description:
 To maintain perishable skills shoot this target first, firing the first 5 rounds through the hostage takers head. Then, follow the suggested shooting drills and finish up by firing the last 5 rounds into the hostage taker (again). This target is intended to build fundamental skill as well as build the confidence to take a real hostage shot.
2. Moving Sight Picture Description:
Designed to teach advanced shooting concepts, such as, maintaining a sight picture while moving the muzzle and pressing the trigger. We found this to be a versatile target works well for a variety of shooting drills, especially magazine change drills. Beginner and novice shooters will find 15 different aiming points to practice fundamental skills.
3. Four 3D Description:
 This target encourages creative training design emphasizing cognitive abilities during training. Instructors may call out colors, shapes, animals, or numbers. These types of drills are excellent for learning to think while performing all other points of performance related to shooting. The US Army Special Forces (Green Berets)  emphasize this type of training, incorporating complex shooting drills intended to train the shooter to think through the situation.

Features:
16 different aiming points dispersed across 4 different targets.
EIGHT squares containing a centralized 1 inch square are located at the corners of each target. Well suited for grouping exercises and sighting in Red Dot optics.
6. Target FOUR Description:
Frogman Tactical Red Dot Sight-in
This target is the work-horse used for all handgun, rifle and precision rifle training. Also, ideally suited for sighting in red-dot optics. Shooting drills for this particular target are listed in the Frog Blog.

Each target shape is exactly 1/2 the size of a full-size IPSC target (18X30 inches). The FOUR targets depicted are 9 inches across and 15 inches long. The center zone in the middle of the target is 3 inches across.

Features:
The gray contrasting background makes this ideally well suited for night vision and laser devices.

Paper, eliminates the refraction hazard associated with using lasers on steel.
Overall Size - 21 X 33 inches long. 
Super thick paper resists weather and show's shot groups better.