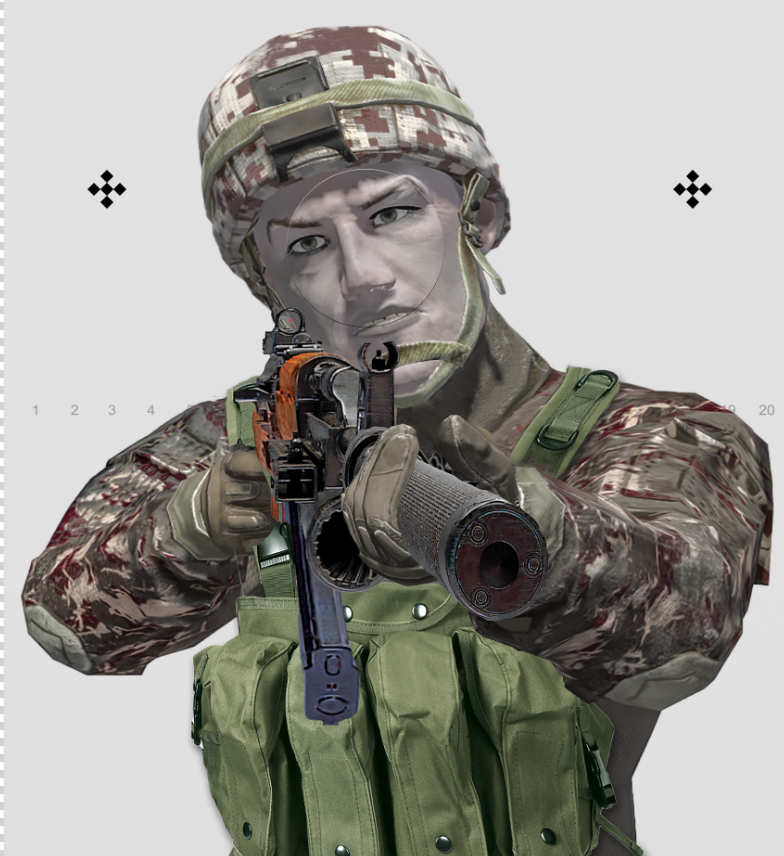 Don Kit
---
Targets are sold in quantities of 10, each "add to cart" = 10 targets.
Description:
A revitalized version of one of our best selling targets. This is a Near Peer threat target depicted wearing a Rhodesian vest and helmet, while wielding an AK-47 w/ suppressor and optic. The targets we shoot we represent the threat we are training to defeat. 
Those serious about training for the fight like to get geared up, just like you. Any shot fired center mass on this target should be counted as ineffective and a miss. Train for worst case scenario. Shooters should train themselves to have the confidence to make a head-shot and that is best done through repetitive training on the range on targets like this.
 The size and dimensions of this target meet sniper assumed dimensions when using mils to assess distance (head 6-8 inches, shoulders 18-21). The head of this target is 7 inches across from ear to ear. Sniper dimensions are also important in the Shoot House, as all targets regardless of distance should approximate human dimensions as closely as possible. Military uniform does not resemble any currently known uniform.

Features:
Body and head dimensions meet military sniper and CQC target specs. Head is 6 inches across, shoulders are bladed and 16 inches (visible).
A unit of measurement in inches is depicted behind the shoulders of the shooter for assessing size and distance when using mils. 
Hips are visible to train pelvic girdle shots.
The head Threat Elimination Zone™ is 3x3 inches and faintly depicted over the cerebellum of the brain.
Two additional 1.5 inch aiming points are ideally suited for magnified optics.
Target size is 21 X 33 inches, suitable for outdoor shooting stands and CQC.

This specialty paper, C1s card-stock will take 3X as many rounds as standard target paper and resist weather, better.  All targets are printed on this paper.

Background shading enhances contrast & depth adding to realism while reducing reflective light.
This target is not optimized for indoor range use, as the aiming points are not centralized.
Strategically Designed Targets
Don Kit
Sale price

$24.90
Regular price
(/)